Twitter in Focus: Eugene Levy
on
September 23, 2015
at
12:01 am
Hey Bros!
Welcome to Twitter in Focus where media comes to die!  Today's contestant is the always funny, Eugene Levy.  Let's see what he's tweeting.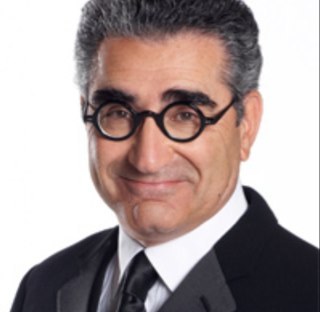 November 14, 2012:  "The down side of fame. No kidding! http://FunnyOrDie.com/m/7bz2"
Wow, Eugene Levy rarely tweets.
March 11, 2013:  "Have I mentioned what a big fan I am of Fred Armisen? Don't know why it's taken so long."
I don't blame the lack of tweets.  I'd never do it if I didn't have things to promote.
January 13th:  "Three years of blood, sweat and tears in the making. Well, no tears. Catch back to back episodes of @Schitt's Creek tonight at 9 on CBC."
Ah, ha!  That's what he was doing.
January 14th:  "Kudos to an amazing cast and crew! So very proud! #SchittsCreek"
Aw, man.  We get the BBC, but not the CBC!
January 19th:  "Here's a question I get all the time: what do most Canadians watch on a Tuesday night? And I lied about the question thing. #SchittsCreek"
Trailer Park Boys, I assume.
January 20th:  "A lot of family history behind that town sign. Don't necessarily want the details, but.. #RolandSchitt, #SchittsCreek"
Maybe if it comes to the U.S., you could get Kurt Sutter to produce it.  Of course, then all the characters would murder each other horribly.
January 24th:  "Sitting through @hockeynight waiting for 3 episodes of @schittscreek. Noticed puck hasn't been bleeped."
Now that was a Canadian tweet.
January 27th:  "Love that you're loving our show Canada! Getting weepy. Don't miss tonight's episode. #SchittsCreek @CBC 9PM"
Great.  And we're stuck watching The Grinder.
January 27th:  "Feeling iffy about your parenting skills? How do you think @JohnnyRose and Moira feel? Don't miss tonight's episode. #SchittsCreek @CBC 9PM"
He's flacking this show hard.  I guess the Canadian TV season starts in January.
February 2nd:  "Funny how easily #SchittsCreek rolls off the tongue now. Personal fave tomorrow night at 9. @cbc"
Or maybe they took an American show and adapted it.  Maybe it was originally Dawson's Creek, you don't know.
February 3rd:  "Call your Ma!! Call your Pa!! #SchittsCreek is on in 15 minutes and I couldn't rhyme it."
But neither does "Call your mama, call your pop!  I'm gonna send you back to Arkansas all right now!"  But it was good enough for Ray Charles.
February 7th:  "#scittscreekpop is headed to NYC!!!"
Ah, ha!  Maybe we can see it now.
February 7th:  "#SchittsCreepPop has landed in NYC!! 5 days to premiere on @poptv"
Pop TV. Ah, found it.  Channel 100.  It's on Wednesdays.  I'll have to check it out.
March 24th:  "How can I top what I wrote 2 tweets ago. Impossible."
I skipped a few plug tweets.  Pretty much the same stuff.
March 31st:  "A heartfelt thanks to Canadians coast to coast for making our first season such a joy! Don't miss the #schittsfinale tonight at 9 on @cbc."
You're a big star in the states, you must be gigantic in Canada.
May 6th:  "Hey America! Don't miss tonight's finale of @SchittsCreekPop at 10P/9C on PopTv. You'll thank me for the reminder."
All right, this sounds like a binge watch show. 
Let's rate Eugene's tweets.  Eh.  He's not really into them, but trust me, he's funny.  If you get a chance to watch reruns of SCTV, do it.  It's amazing.  I give Eugene a 3 for Mustness, a 5 for Style and a 7 for Insanity.  That's an overall score of 5, but follow Eugene anyway.  And watch Schitt's Creek.  I'm sure it's awesome.
And if you have a suggestion for Twitter in Focus, email me here.