Twitter in Focus: Stephen Merchant
on
May 31, 2017
at
12:36 am
Hey Bros!
Welcome to Twitter in Focus where media comes to die!  Today's contestant is Stephen Merchant, voice of Terry in Dream Corp and Conrad in that episode of the Simpsons.  Let's see what he's tweeting.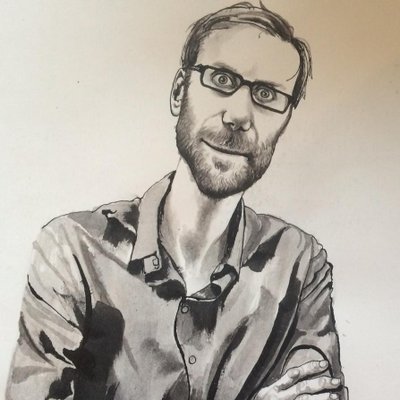 May 5th:  "It needs to be reworked by pop icons? How's these apples? https://www.youtube.com/watch?v=UK3mzxMhXyU&sns=tw …"
Too soft for me.  Needs more of an edge for a spy movie.
May 5th: "Yes, any half-developed ape with opposable thumbs knows I'm right"
As a half-developed ape, I am forced to agree.
May 5th:  "'And why is gadget nerd even on this call? Get back to the basement'"
C'mon, Q was very key in the Roger Moore days.  He's was mostly gadgets at the end.
May 6th:  "Visiting #DreamCorpLLC, currently shooting Season 2. danielstessen @kahleabaldwin #adultswim https://www.instagram.com/p/BTwza07F-Hp/ "
Cool show.  Looking forward to the new season.  Very much stoner material.
May 8th:  "I listen to the most scientificcy edition of @BBCInOurTime I can find. Brainiacs chatting lulls me to sleep.
We don't have that in America, but most TV here will lull you to sleep.
May 8th:  "I'd like to point out I'm an avid listener and have now heard most episodes 2 or 3 times"
Yeah, I'm like that with TV when I'm writing this.  Listening to it, but not watching it.
May 16th:  "Cheers for all the support and kind words about Caliban. Watch #Logan Noir, included w/… https://www.instagram.com/p/BUKrAtOll2F/ "
That's you?!  Had no idea until now.  Gotta see that movie.
May 22nd:  "Wow. Twin Peaks revival utterly magnificent. In age of great TV, @DAVID_LYNCH proves he was, and still is, light years beyond everyone else."
Aw, man.  So much to watch.  I'll have to find that on my on-demand thingee.
May 29th: "TV highlight of the week. Spoiler alert? (Don't know what it spoils exactly) https://www.youtube.com/watch?v=-AeANz2ndM8&sns=tw … via"
Looks kinda slow, but Twin Peaks always had weird pacing.  Still gonna watch tho.
Okay, let's rate Stephen's tweets.  Lots of responses to fans I couldn't post here.  I give him a 9 for Mustness, a 9 for Insanity and a 10 for Style.  That's an overall score of 9.3.  Very high.  Follow Stephen.
And if you have a suggestion for Twitter in Focus, email me here.