Twitter in Focus: Anthony Daniels
on
March 28, 2018
at
12:40 pm
Wow, so out if it, I actually posted this on The Webcomic Factory by mistake!
Hey Bros!
Welcome to Twitter in Focus where media comes to die!  Today's contestant is a man who plays a robot, Anthony Daniels!  AKA: C3PO!  Let's see what he's tweeting!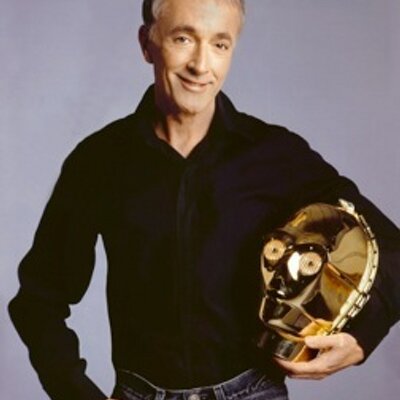 January 29th:  "THIS COULD BE YOURS …"
Ka-ching!  That's gotta be worth at least a couple of Tie-Fighter.
February 20th:  "Peggy Clercq had vanished in Brussels before I could thank her for her stunning card and silk art celebrating another Big Day for me. I'm often amazed at the creativity shown by SW fans. But this one, I'm taking personally. If you know where to find Peggy, please let me know. 72!"
Wow, that's pretty impressive.
March 4th:  "Sadly, I can't join you at the Oscars to receive the LIFETIME IN METAL Award, due to trekking in Nepal at this time (bad timing?) But not sure the GOLDEN ONE is known here – they have other things to worry about. But well done everyone who is up there in LA. MTFBWUA. Next year???"
What you need is a remote controlled C3PO and you can just sit in your Nepal tent controlling it with your iPad.
March 4th:  "Come to think of it, here: I'm 13hrs 45mins hours ahead of LA. I could just make it for the GREAT EVENT. In an anorak. But tuxless, they wouldn't let me in, would they. Is anyone else nearly 14 hrs ahead of LA on this planet? With a spare tux? Call me."
Man, you think they would've emailed you ahead of time or something.
March 4th:  "Oh. Err. Um. No problem. Obviously, my invitation got lost in the SNOWS OF ENGLAND. But I'm warm where I am. And happy."
Don't sweat it.  They cut Adam West from the death reel.  I mean, c'mon!
March 4th:  "Thanks for all the offers of spare tuxes/dinner jackets and rides and dates and… everythings. As always, Star Wars fans are the best, so I am not alone tonight. The Force is with me. And so are YOU. XX"
Aw, that's sweet.
March 6th:  "Inquiring minds want to know so.. So far, in every sense of the word, seething Mumbai, astounding Ajanta, palatial Udapur, impressive Jodpur, sandy Ikaner, pink Jaipur, packed Agra & breathless Katmandu. So to Pokhara, all by trains and planes. From now on foot. Better…on feet."
If you're wearing the robot suit, it must take you forever to get around.
Okay, let's rate Anthony's tweets.  I give him a 6 for Mustness (he's a busy droid), a 7 for Insanity and, of course, a 10 for style.  That's an overall score of 7.6, but I'm bumping it up to a proper 9.  Follow Anthony.
And if you have a suggestion for Twitter in Focus, email me here.