Twitter in Focus: Anthony Mackie
on
January 13, 2016
at
12:01 am
Hey Bros!
Welcome to Twitter in Focus where media comes to die!  Today's contestant is Anthony Mackie, AKA: The Falcon from the Avengers movies.  Let's see what he's tweeting.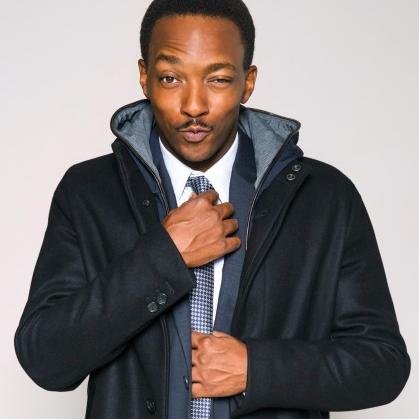 November 20th:  "Chocolate Martini is now on the menu! "
The perfect drink to get drunk and fat at the same time.
November 24th:  "GoodMorning… Nothing like being home! #GrandIsle#thebayou#BigRedFun pic.twitter.com/83qPLoq9a7"
It's like being in Gator without the airboats.
November 24th:  "What a day! #Specks#Sheephead#Reds#LargeMouthBass#…and almost forgot… #BullRed! pic.twitter.com/bmJMVAsK2L"
Ooo, nice catch.  But where's the gators?
December 1st:  "The #CivilWar crew is coming to Nola in January… get your tix here: http://wizd.me/caamvipattor  #WizardWorld #HeroesInMyHometown"
I gotta get down to that Wizard show.  It's like the only one I haven't done.
December 2nd:  "Psyched to announce #SAGawardsnoms next week with @AnnaKFaris!"
Nice.
December 11th: "Let's go Pels #Pelicansgameday pic.twitter.com/T3MiHA6k51"
Pelican is not an aggressive enough animal for a sports team, in my view.
January 1st:  "2016 Goal… Make Par 3's my bitch! Happy New Year my friends "
Man, celebrity problems.
January 3rd:  "Bringing my boys to the NO Wizard World! Let's Party NO!!! "
Hmm, a comic con in January in the warm south?  Sign me up.
January 5th:  "All I did was listen! Peaceful journey my friend. With love and respect… Vilmos Zsigmond! #RIP#Hungariansweetness! "
He was a giant in cinema.
January 8th:  "What The!!! I finally got a little POP dude!!! Yes! And he looks cool as the other side of the pillow…#coppedthat "
He's got it all.  Even the little beard.
January 10th:  "Thank you everyone for coming to play this weekend… Con style!#WizardWorld #NOLA "
I'll say it for the fanboys.  Sorry for the smell.
January 11th:  "Great closing! I recommend Terrell Hunter to anyone looking for a realtor in the New Orleans area @hunterrealtyllc "
Sounds like someone got a big royalty check!
Okay, let's rate Anthony's tweets.  Definitely genuine.  I give him a 6 for Mustness, an 8 for Insanity and a 9 for Style.  That's an overall score of 7.6.  Follow the Falcon.
And if you have a suggestion for Twitter in Focus, email me here.