Twitter in Focus: Ronald Funches
on
January 22, 2014
at
12:01 am
Hey Bros!
Welcome to Twitter in Focus, where media comes to die.  Today's contest is Ronald Funches.  He's a comedian and comedy writer for the most awesome, Kroll Show.  Let's see how funny he writes his tweets.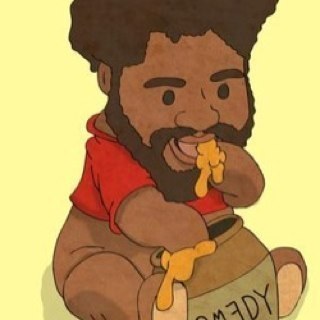 January 19th:  "Saturday night 2 am so you know a true player like me is home alone watching The Legend of Korra."
Hey, the Kroll Show won't write itself.
January 20th:  "Thank you Martin Luther King Jr. for showing us that love, inclusiveness, and empathy are greater weapons to use than guns. Suck it Hoover."
They should've never named vacuums after that guy.
January 20th: "Also thank you MLK for white rappers, white girls with dope butts, and Lenny Kravitz."
Yea, Lenny!  This collaborative effort is highly underrated, I say.
January 20th:  "I'm hungry but don't wanna get dresssed, if I go to Wing Stop shirtless in house shoes will they kick me out or think I'm Rick Ross? #rozay"
If they think you're Rick Ross, you're likely to get extra blue cheese.
January 20th:  "Batista is the toughest dude with a belly button tattoo you'll ever see. #wwe #raw"
Ow.  That tat has to hurt.
January 20th:  "From now on movies are called what's Kevin Hart been up to. #newrules"
He has been in everything recently.
6 hours ago:  "NEW @TheKrollShow tonight 10:30/9:30 central. Watch it! It's a good and smart show."
Can't wait.  It has been very awesome.  Watching it now.  Take that Canada!
6 hours ago:  "#KrollShow #KrollShow @nickkroll #smart #funny #goodboss #friendship #everyoneongtheshowissucessful"
You have over hashtagged, Ronald.
5 hours ago:  "Why is Makko doing Asami so shady when she dope as fuck? This is another Myra Munkhouse situation. #LEGENDOFKORRA #FamilyMatters"
You are hashtagging the shit out of this.
Okay, let's rate Ronald's tweets.  I give him a 9 for Style, an 8 for Mustness and a 9 for Insanity.  And since he works for the Kroll Show and has won @Midnight, I'm going to round up his score to a 9.  Follow Ronald.
And if you have a suggestion for Twitter in Focus, email us here.